Growing in Our Faith Through
Study, Prayer, and Service
Buffalo Breakfast & 5th Quarter
Our high school football players, cheerleaders, band members, coaches, and school administrators join us on the morning before football games for a healthy breakfast and a Bible devotion focused on our high school youth. We also host a youth event with food, snacks and various activities after home football games.
On graduation night, the church building provides a place for activities and fellowship for our graduating Senior class where they can have fun and stay safe.
Contact us
if you would like to help.
Our children learn about the Bible and God's love for them in fun and practical ways. The class meets at 10:10am on Sunday mornings.
One week during Summer vacation, our elementary children learn about God and Jesus Christ through a variety of fun activities, singing, dancing, and participating in ministry programs to help those in need in our community and around the world.
Contact us
for information and to volunteer.
If you truly want to study the Bible, you will love this class. The class meets at 4:00pm on Wednesdays. Join us to study, examine, and discuss the Bible and see how God's Holy Word has meaning in our lives today. Bring your Bible with a desire to learn and participate.
Our new faith community meets at 5:00pm on Wednesdays and focuses on building our faith, growing as disciples, and sharing the Good News in Jesus Christ. Contact Stacy Montgomery for more information.
Glory Be's - Women's Group
The women of the church meet monthly, at 7:00pm on the first Wednesday of the month for a time of fellowship and food and a devotional based on Scripture. The Glory Be's are a service group that assists with a variety of missions and ministries in our community. Contact the church office or Susan Hunter.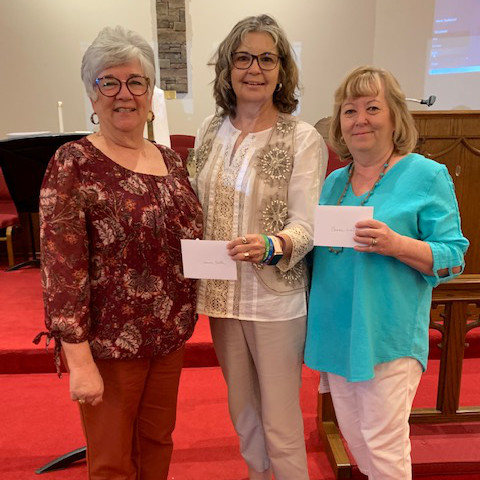 BUNCO - Women's Game Night
Join the women of our church for a fun evening playing BUNCO and raising money for local missions in the church fellowship hall on the first Monday of the month at 6:00pm.
Contact
the church office for more information.
On Thursdays at 6:30am, the men of the church meet at Jean's Feed Barn to lift up prayer concerns, share a devotion, and enjoy breakfast and a time of fellowship. Contact Pastor Kevin or just feel free to join us!
We strive for all that we do as the Body of Christ to be founded on prayer. Our prayer team meets on Monday mornings at 10:30am to lift up prayer concerns, update the church's prayer list, share a devotion, and spend time with God in prayer. You can contact the church office or Sharon Ames for more information or just show up and join us.
Through the Fire, Wind and Flood


Join us for our Sunday
Services and gatherings